spacer.png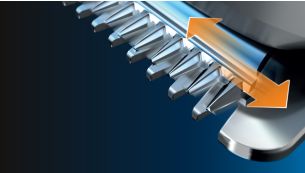 Stainless steel blades for long-lasting sharpening
I got a perfect and safe cut, time and time again. The trimmer's steel blades gently rub against each other, sharpening each other as they cut through hair, retaining a powerful edge and delivering high performance, just like the first day.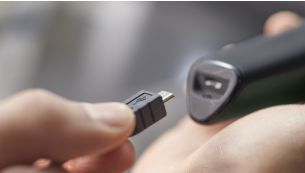 Up to 30 minutes of cordless use after 8 hours of charging
Charge your trimmer for 8 hours with the USB cable for 30 minutes of cordless use.USB charging for convenient use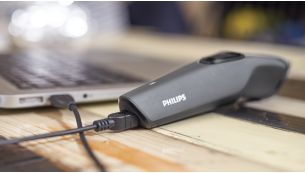 USB charging for convenient use
The beard trimmer includes a USB cable for more flexible charging using your computer or any USB adapter. The adapter is not included (Philips HQ80 adapter is recommended).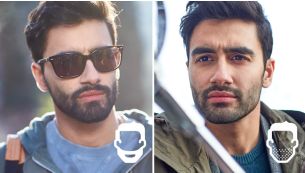 You can choose between a 5mm long beard, a short 3-day beard or a close shave
Use the 5mm comb to trim your long beard, the 1mm comb to create a 3-day stubble look, or use the no-comb trimmer to shave close.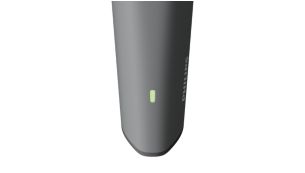 Device light indicates if battery is charging
This trimmer has a battery charge indicator, which informs you through a green light that the device is charging.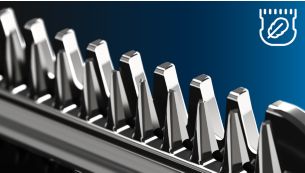 Non-irritating blades for smooth skin
The blades have rounded tips for gentle contact with the skin and to prevent scratches and irritation.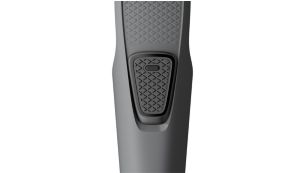 Travel lock prevents trimmer from turning on automatically
Travel lock on on / off button prevents appliance from being accidentally turned on.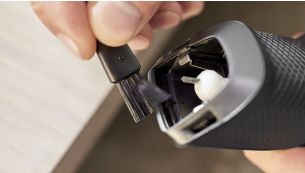 Detachable head for easy cleaning
Detach the head and use the included brush to remove loose hair for easy dry cleaning. No need to oil.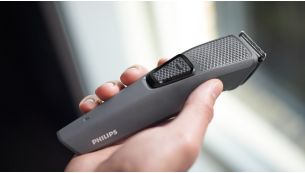 Ergonomic design for easy use
Easy to hold and use. Designed to help you cut out hard-to-reach areas.
Stainless Steel Blades 30 min cordless use USB charging Choose any of the 3 looks Battery charging indicator Skin-friendly blades Travel lock Easy to clean Ergonomic design

Specifications : Cutting system Precision (size of steps): By 1mm Cutter width: 32 mm Cutting element: Stainless steel blades Non-scratching teeth: For more comfort Accessories Comb: 1 stubble comb (1mm), 1 beard comb (5mm) Maintenance: Cleaning brush Power Run time: 30 minutes Charging: USB charging, 8 hours full charge Battery Type: NiMH Automatic voltage: 100-240 V Ease of use Display: Charging indicator Cleaning: Dry cleaning with brush Operation: Cordless use Travel lock Design Handle: Ergonomic Easy Grip
Stainless Steel Blades
30 min cordless use
USB charging 8 hours full charge
Choose any of the 3 looks
Battery charging indicator
Skin-friendly blades
Travel lock
Easy to clean
Precision (size of steps): By 1mm Cutter width: 32 mm
Non-scratching teeth: For more comfort
Comb: 1 stubble comb (1mm), 1 beard comb (5mm)
Cleaning: Dry cleaning with brush
كٌن أول من يقوم بتقييم السلعة
اكتب تقييمك هنا
ما هو تقيممك للسلعة? *
سلع شاهدتها من قبل